Upward Bound is one of America's TRIO Programs.
TRIO Programs are federally funded by the U.S. Department of Education, Washington, D.C., and are designed to guide and prepare students for success in college.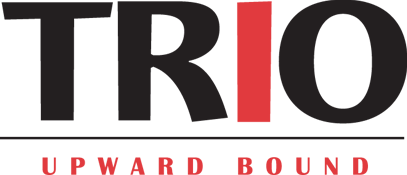 Educational Opportunities
for All
Our nation has asserted a commitment to providing educational opportunity for all Americans regardless of race, ethnic background or economic circumstance.
In support of this commitment, Congress established a series of programs to help low-income Americans enter college, graduate and move on to participate more fully in America's economic and social life. These Programs are funded under Title IV of the Higher Education Act of 1965 and are referred to as the TRIO Programs (initially just three programs). While student financial aid programs help students overcome financial barriers to higher education, TRIO programs help students overcome class, social and cultural barriers to higher education.
Who is Served
As mandated by Congress, two-thirds of the students served must come from families with incomes under $24,000, where neither parent graduated from college. Over 1,900 TRiO Programs currently serve nearly 700,000 low-income Americans between the ages of 11 and 27. Many programs serve students in grades six through 12. Thirty-nine percent of TRiO students are White, 36 percent are African-American, 16 percent are Hispanic, 5 percent are Native American and 4 percent are Asian American. Sixteen thousand TRiO students are disabled.
How It Works
Over 1,200 colleges, universities, community colleges and agencies now offer TRIO Programs in America.
TRIO funds are distributed to institutions through competitive grants.
Evidence of Achievement
Students in the Upward Bound program are four times more likely to earn an undergraduate degree than those students from similar backgrounds who did not participate in TRIO. Nearly 20 percent of all Black and Hispanic freshmen that entered college in 1981 received assistance through the TRIO Talent Search or EOC programs. Students in the TRIO Student Support Services program are more than twice as likely to remain in college than those students from similar backgrounds who did not participate in the program.
Programs at a Glance
Students enrolled in today's TRIO Programs mirror our nation's multi-cultural and multi-ethnic society. Thirty-seven percent of TRIO students are White, 35% are African-American, 19% are Hispanic, 4% are Native American and 4% are Asian American. Sixteen thousand TRIO students are disabled. There are more than 25,000 U.S. veterans currently enrolled in the TRIO Programs.
TRIO college graduates are working in business, industry, government, medicine, law, education, communications, sales, finance, politics, transportation, publishing, law enforcement, computer science & technology, engineering and accounting.
Sources: www.coe.net.us; https://www2.ed.gov/about/offices/list/ope/trio/index.html